Chase Ryan
Urban Barnwood + Chase Ryan
Much like Urban Barnwood, Chase Ryan's designs are all about family, love, and strength through hard work. Originating on the retail side of the industry, Chase's crossover into design was fueled by a unique, much needed vision: to create pleasing furniture that can successfully withstand wear and tear from the entire family. He has an unfailing commitment to designing vintage wood furniture "that families will build their lives and memories around" –all while complimenting the most contemporary environments. It's these qualities that assured us Chase would make the perfect Urban Barnwood partner.
Family is as important to Chase as it is to us. And when he sits down at the drafting table, he frequently considers the requirements his own children place upon household furniture. As Chase puts it, "If I designed it, I am confident that your family can enjoy it without worrying about damaging it. If my 4 kids can't destroy it with Fanta and Cheetos, I think your family will be fine too…"
But his commitment to fashionable sturdiness is merely one aspect of Chase Ryan's skill. Hailing from Round Rock, Texas (just north of Austin), Chase changes more than just the look of your living room. Not only does he actively design furnishings for some of the finest furniture manufacturers in the United States, and decorate the interiors of some sprawling estates, but he constantly develops new techniques.
This ensures that his designs make a difference. For example, one of the many projects Chase has tackled was establishing a new leather tannery in Ethiopia, designed to create fair trade leathers and provide work to widows so that they may support their children.
For Chase, the tannery is the result of experiences that hit close to home. Because his two oldest sons are from two different regions of Ethiopia, Chase learned first-hand that widows, and also "orphans that 'age out of the system,'" can easily end up in unforgiving circumstances. So now, part of his mission is to help provide a lifelong career to those in need.
Chase works solely on word of mouth, and it was his combination of talent, reputation, and selflessness that assured us he would make an amazing collaborator. We reached out to him via Instagram, and are beyond thrilled that he agreed to come visit us.
First Impressions
When Chase visited us for the first time, he had the full Amish experience. He was picked up in a horse and buggy, and we took him on a tour of the entire town. His favorite stop, non-surprisingly, was one of the many old barns where we get our beautiful barnwood.
That 150+ year old barn, right here in Ohio, is just like all of the other barns where all of the wood comes from in every one of our pieces. It's the reason the collection is called 1869, because the newest wood is going to be at least 151 years old. This wood went through colonization, the Civil War, and thousands of important family milestones along the way. Barns can't talk, but they do hold memories and each one of our pieces is not only beautiful but it's inspiring. Chase loved this barnwood and especially the beams, and you'll see that beamwork present in the initial table sketch. 
After visiting the barn, Chase found a unique appreciation for the beams. The size, quality, and integrity of the wood after almost two centuries outside was astounding. The beams were a showcase of the crafters that built the structure in the 1800's and yet were too large to be used in most of the furniture being produced in their solid form, untouched from modern saws. Hence the concept behind the initial table sketch.
Chase was really impressed with our facility. He found that it wasn't the Amish production he had envisioned, but also wasn't fully industrialized. This amalgam—a perfect balance between the good old days and the advent of modern tech—exemplifies our collaboration.
As Chase says, "If I can walk into a showroom and feel the underside of a piece or a tight corner and find that it's not perfect, I know there is no point in working with that company. They won't understand my detail level and they won't be able to execute it in production".
Image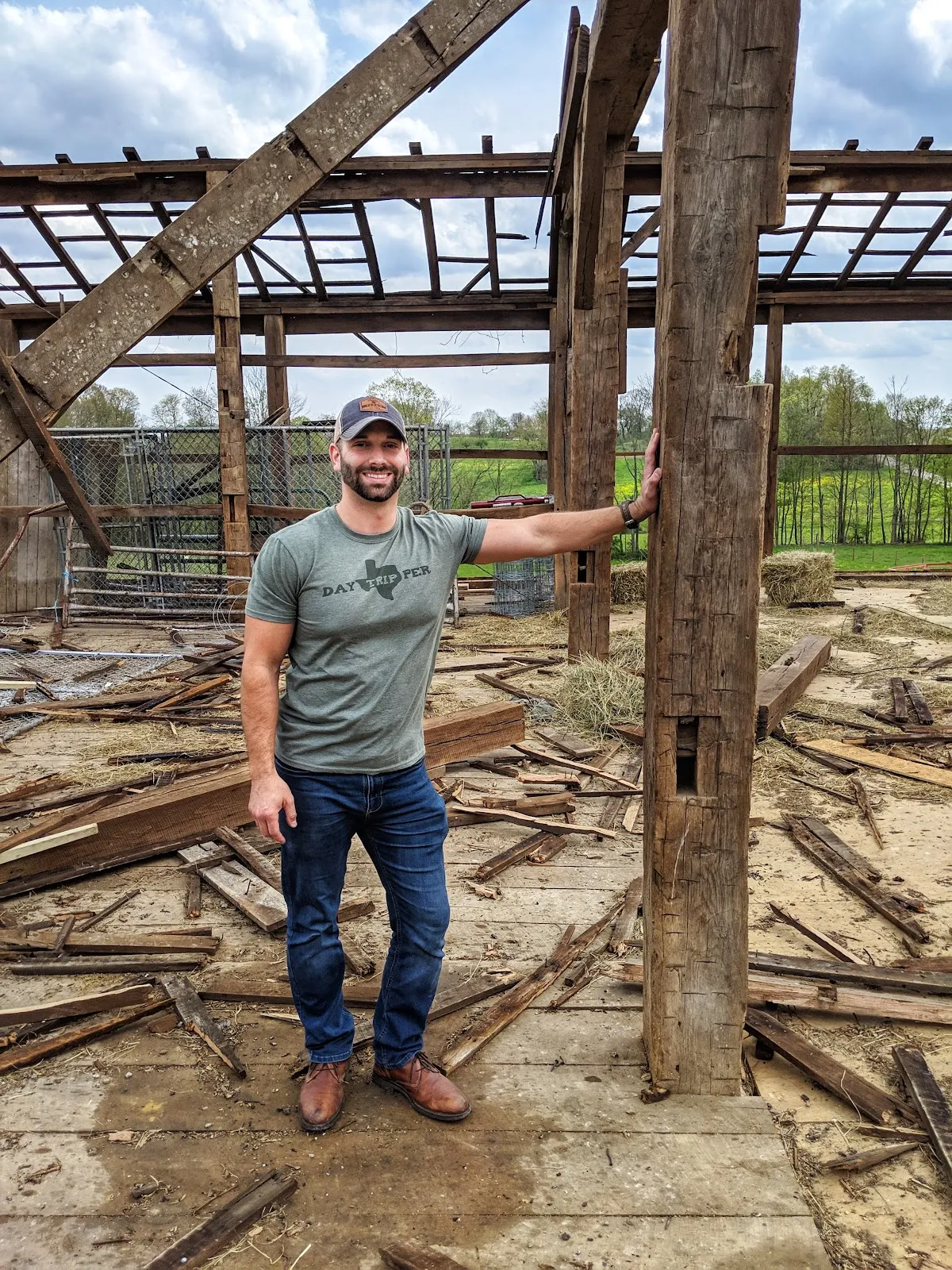 And when it comes to production, we learned that Chase's process is immediate and unrelenting. Visit his Instagram and you'll discover that, like movie storyboards flowing from his mind, Chase can easily fill whole walls with design sketches. In our case, the Ohio Barnwood inspired him to start sketching ideas on the ride back to his hotel!
From those initial sketches, our 1869 collection practically burst forth. Chase absorbed subtle details from his personal experience at the barn, and incorporated them into the final. concept. His confidence bolstered by Urban Barnwood's mix of Amish craftsmanship and present-day modernity, Chase dove right in with us, leading the sample build from which the collection sprouted.
The Looking Glass Table